photos + moxie
We're all about making it
easy


to get the

memories

,
the

good times

& the

milestones


front and center
Well hello there!
We're Jodi and Emma Falk, the mother-daughter team behind reStickity - based in Rochester, NY (ironically enough the birthplace of Kodak!) and the first online company focused solely on reStickable photos. We wouldn't be in the reStickable photo business today had we not endured an extremely tough experience - - keeping Emma's spirits up while she endured a life-saving bone marrow transplant.

In 2011, Emma was 5 years cancer free from Hodgkins Lymphoma when she was diagnosed with Acute Myeloid Leukemia. We were terrified. Unlike her prior treatment, this time she was hospitalized and unable to receive visitors for a very long time. Her white sterile hospital rooms made everyone feel lonely and disconnected. In an effort to make her as comfortable as possible, we surrounded her with pictures of the people, places & pets that she could no longer see or spend time with. Although these photos served as a source of comfort, motivation, and conversation, they were a hassle to remove and re-display every time she was transferred to a new room or different unit. Tape and sticky tack didn't last, command strips were one-time use & hospitals aren't necessarily frame friendly places. Pictures ended up on the floor, got lost, or stuck together and were damaged when pulled apart.

Nearly a year later, she was cancer free AGAIN!!!

Our lives resumed and next came college. Pictures were printed, arranged in collages or displayed in frames to make new environments a little more familiar. Rooms were small, painted cinder block walls made displaying anything difficult, and wall-damage was costly. Packing up photos at the end of each school year was painful, sticky and cumbersome.

After college, our family started spreading out, phone cameras became the new big thing and everyone began to share pictures electronically via email, text or social media. Pictures were trapped on phones instead of being printed and displayed on walls and refrigerators. Our less tech-savvy family members were left in the dust.

For all the positive benefits of photos, it's unfortunate how difficult they can be to display, regardless of whether you stay in one place for a while or move around a lot. Tape and sticky tack aren't long lasting and can cause surface damage or photos to rip and shrivel. Frames are costly, take time, and can leave holes, assuming you even have a nail friendly surface (or landlord!).

Because we've experienced the power of photos and the impact they have on the people they surround, we created reStickity. We're all about two things:

(1) photos that last, come in multiple sizes, are easy to order & effortless to display and re-display on any surface.
(2) giving our customers a way to keep the people, places, and pets that mean the most, close by, regardless of the distance or life situation that separates them.

It's simple, it's something we're passionate about & we're sticking to it (pun intended)!
Jodi & Emma Falk, Co-Founders
our goal
To make reStickitys available to children facing long-term hospitalized care.
photos + moxie
Photos plus what?
When Emma was sick, it took a village to keep us going. We made t-shirts & wristbands to show unity and support. Picking the color of the wristband was the easy part. It would be orange, the color associated with Leukemia. On the wristband, we selected words that captured what Emma would need to get her through her battle - each word containing one letter of EMMA's name:
E - Extraordinary
M - staMina
M - Moxie
A - fAith

To space the words out on the wristband we added symbols of what it was going to take from the rest of us: prayers
, love
, luck
and infinite strength
.
We also printed orange t-shirts, just after Emma lost her hair so it only seemed right to put "No Hair All Moxie" on the shirt to be donned by Emma's crew.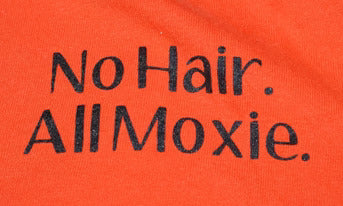 The common theme between the wristband and t-shirt, other than the subject matter, was MOXIE, a noun defined as vigor, verve, pep, courage and aggressiveness, nerve, skill & know-how. To us, moxie became our go-to, short & spunky word for vitality, endurance, staying power, resilience, intestinal fortitude. Moxie encapsulated Emma, her will to live and drive to get back to the way life was before the diagnosis - before cancer, before life's uncertainty. And today it's a word we easily associate with reStickity. Moxie describes reStickitys staying power and ability to stick and reStick to any surface, peel away from itself, and withstand multiple moves without ripping or wrinkling.

Moxie was our go-to word then, and we're reSticking to it ;)
We'd love to hear from you! If you'd like to reach us or have any questions, please email us at Yo_Adrian@reStickity.com